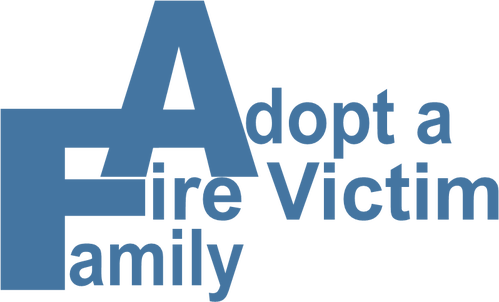 Meet the Jamison family, Jacob (dad), Jennifer (mom), Left to right kids Tesla, Zuri, Matteo
A Ministry to Help Fire Victims Get Back On Their Feet
"At the present time your plenty will supply what they need, so tht in turn their plenty will supply what you need. The goal is equality."
2 Corinthians 8:14
My name is Kylee, My sister Jennifer (34), her husband Jacob (26), their daughter Zuri (10), their son Tesla(3), their other son Mateo (2) and Jacobs older brother Josh (30) all live in Berry Creek CA. September 8th was one of the worst days of their lives. They woke up the morning before with not a care in the world. Loving life. So proud of all the work they had been doing to turn this house into a home for themselves and their children. Knowing that over in Plumas county there was a fire burning, but no worries about it making it any where near them. Never did they imagine that over the course of that day and night, that the fire would not only reach their little community, but it would destroy their home along with many many others in their community. Jennifer and Jacob have three children as I explained earlier.

The two baby boys live there full time with their mom and dad. The daughter Zuri, she however does not live with them full time. That still didn't change the fact that she needed and deserved to have a room in their home that she could call her own and keep her possessions in. Now again, she may not live there full time but she's feeling the effects of losing all of her sentimental items and clothing just as much as the rest of her family.
Along with the two boys and Zuri, Jen and Jake are also care takers of Jake's younger brother Josh who is 30. Josh has aphasia. Aphasia is a mental disorder caused by sever brain damage. He has extreme trouble expressing emotions and is unable to quickly and accurately understand or express speech. He is capable of taking care of himself only to a certain extent due to this condition so Jen and Jake are also his caretaker's on top of their three children. So this little family of 6, worked so hard to come from nothing, having nothing, sleeping in tents and motel rooms, all the way up to owning their own home!

They went through that terrible time with their heads held high, never giving up on getting their lives back together and off the streets. Soon however, they came to realize that they were expecting their first child together. This was what they needed to push the envelope just a bit further and get back on their feet. With some assistance from family and a wonderful person willing to give them a second chance and take them in, they were able to have a roof over their heads while they worked to save money and get into their own place. They started out with a rental at first. Now this rental, it was well, lets just say it was far from being able to be considered a decent home to raise a child in. They were getting desperate to remove themselves from that rental property when by chance, they met another wonderful woman who was able to lease a home to them, with the intent that after a year, their rental payments would go towards a down payment and the house would be theirs. Of course knowing what a rare situation it is to find, they jumped on the offer immediately.

They replaced flooring, painted, fixed broken appliances and bathrooms and finally after a month or so they were able to move in. A year goes by and it's time. Time for them to finally sign the papers and make the house theirs. True to her word, this wonderful woman signed over the home to them. It was a done deal! They just couldn't believe that they were finally home owners and how far they had come. Now, when this process all started, Jen was only just now expecting their first son. Zuri was already here and staying with the other half of her family. By the time they had finally signed the papers and gotten their dream home, they had Tesla, and they had just given birth to Mateo. Jen, Jake, Tesla, and Mateo all finally had a roof over there head and stability back in their lives! Zuri was now staying part time with both halves of her family and she was also very grateful to have a home for her parents and her brothers to call their own and a place for her to have a room and be with the other half of her family. Everything was going to plan.
They were turning this house into a home and they were making memories. Time goes by with not many issues and everything is going good. Up until May of 2020. Jacob's mother suddenly passes and leaves the family reeling. Jake's mom was a huge part in their lives. She did live out of state but they talked to her on a daily basis. Sometimes more than once a day. Jake would wake up and call her during his morning smoke break and normally again after dinner, just to say goodnight and let her see her grandbabies.
Losing her was a huge blow to all of them. Jacob's mom was also the sole caretaker of his older brother Josh. Jen and Jake took Josh into their home and became his caretakers immediately and without any hesitation. This poor man had just lost his mother, the only constant he knew and could understand since the car accident that had caused him to develop the Aphasia. Now he was being uprooted from the only home he'd ever known and moved all the way from Michigan to California. He was finally settling in and growing comfortable with life out here in Cali with his brother's family.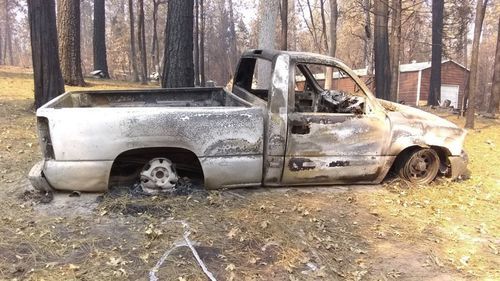 And then, here comes September 8th, one of the worst days of their lives as I had said. They packed up at midnight that night, packing up their children and their four dogs into the only vehicle they had to get out of their with. They had a neighbor help them load up the dogs into the back of his big truck and Jen loaded up into her car with the children. Then they ran from the fire with themselves, their children, their dogs, and the clothing on their backs. They waited patiently to find out if they were one of the lucky ones who's house had managed to be spared by the devastating fire that tore through their community that night. Finally the day comes when we get confirmation that their home was not one of the lucky ones. They had just lost their home and everything they had been working for. It was burnt to the ground. They were unable to grab even small sentimental items. They lost everything. Half of which is completely irreplaceable. They are devastated. They are having a very difficult time seeing a way out of this situation.

All they have is hope, but that hope is everything to them. They're living day to day with other family members, waiting for the chance to rebuild and start over once again. Please, please, if there is anything you can do to help them. All is greatly appreciated and welcome. If you cannot donate financially, maybe you have items you can contribute to the children.

Tesla and Mateo are in size 3t for clothing and sizes 6 and 8 in baby shoes.
Zuri is a size 5 in women's pants, a medium in women's shirts, and a size 8 in women's shoes.
Jen is size 3 in pants, small/medium in women's shirts and a size 7 in women's shoes.
Jake is size 30/32 in men's pants, medium in men's shirts and size 10 in men's shoes.
Josh is 34/32 in men's pants, large in men's shirts and size 11 in men's shoes.

If you would like to help out with the dogs they will always accept food and treats as well as any kind of toys. The dogs lost all of their toys in the fire as well and have nothing to keep them entertained where they are staying due to there not being a yard large enough to let them run in. All of the dogs are 60lbs+ and are husky mixes. One of the dogs however is about 100lbs and he's also a husky mix.

Thank you so much for reading this families story. Any help you can give is greatly appreciated and will help out tremendously. If you are unable to help out physically or financially, help us out by sharing their story as far and wide as possible! Let's get this little family back on their feet and back into a home as soon as possible!